If you have dreamed of moving to the land of sunshine, then Florida is probably on your radar. Florida is known for its bright and warm gulf coast, so what better place to think of moving than Sarasota and Lakewood Ranch? These two popular areas (Lakewood Ranch is the #2 fast selling community in the entire country) sport a seemingly inexhaustible array of activities,. Miles of pristine beaches, history and culture, a plethora of shops, restaurants, and outdoor excitement...there is something for everyone to enjoy. Now, doesn't that sound like paradise? Waterside at Lakewood Ranch is located in Sarasota county and has been tailor-made to fit all lifestyles and cater to their needs with the highest standards.
It is built to ensure that every one of them finds what they are looking for. From happening shorelines, calming lakes, exhilarating hiking trails, picturesque nature spots, and a bustling town center, there's nothing Waterside does not offer. At the heart of Waterside at Lakewood Ranch, the town center is now under construction and will be built with a gorgeous lakefront view. The town center, Waterside Place, has been designed with a vivacious and zestful community in mind. It will be filled with shops and restaurants that appeal to all ages. Pop into CROP, an all-organic and vegan restaurant to grab a smoothie before you head over to Yoga Shack, where you can do yoga with a view! If that's not your style, then you can grab a coffee at Foundation Coffee Shop and sip it while relaxing at their bodega-style outdoor seating area. There's plenty more to do; maybe you can book your hair transformation with Derek, or get a scoop of your favorite ice-cream at Kilwins - whatever you want, the town center has it!
A COMMUNITY BRIMMING WITH ACTIVITIES
There are so many other community-fueled activities for the residents. The 8-acre Waterside Park in the town center is built to host concerts and festivals and is home to the local farmer's market, all so the community can thrive. A dedicated onsite lifestyle director ensures that there are plenty of activities planned to suit the needs of the community. One of the pre-planned activities for the residents is held at The Players Centre for Performing Arts, Sarasota's oldest performing arts organization. The brand new theatre, built over 4.5 acres of land, is all set to host nearly 400 performances a year!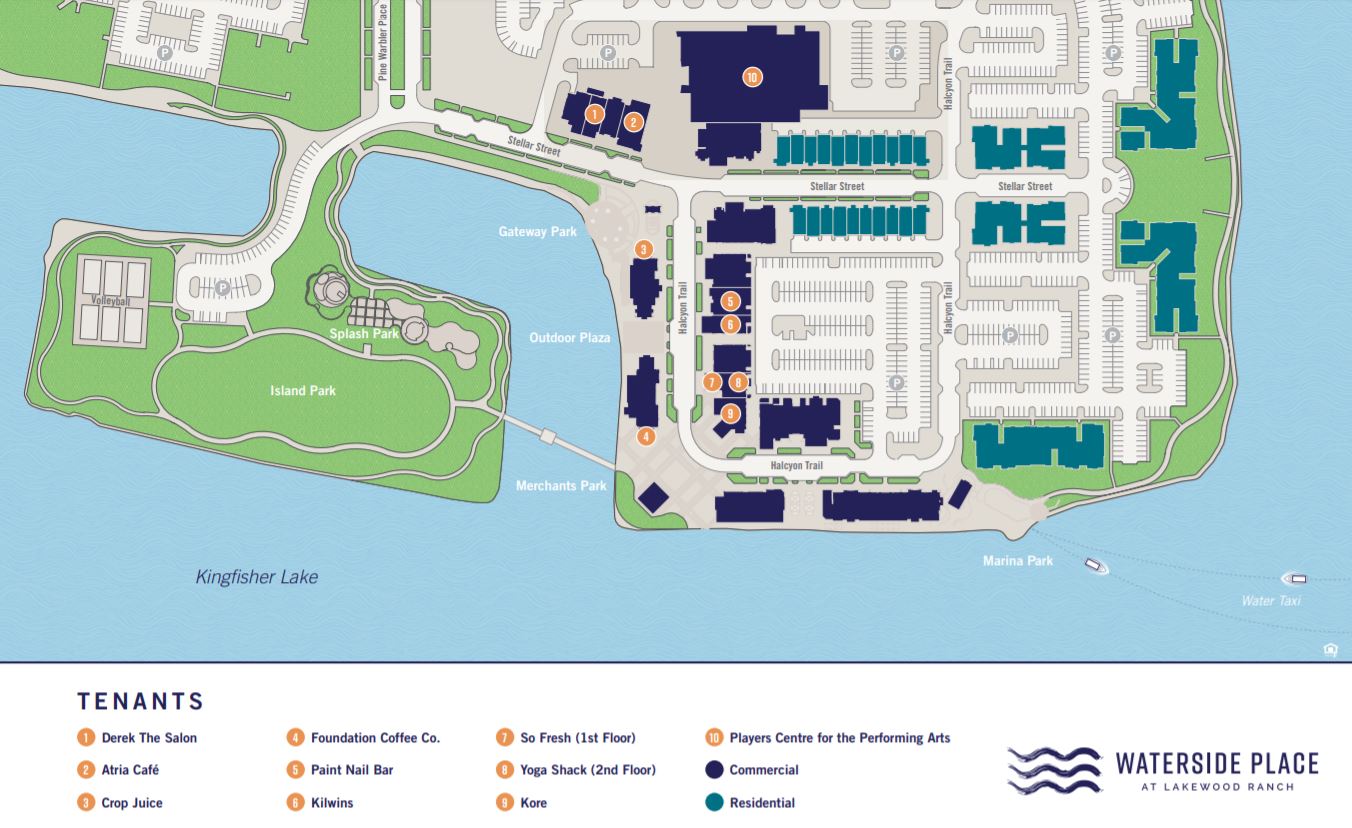 LAKEWOOD RANCH WATERSIDE IS A MULTI-GENERATIONAL COMMUNITY
If all that is not enough, Waterside is built to appeal to a multi-generational community, which means it has features for retirees looking to relax and business professionals looking for a place to settle down with their families. With many community activities and the hustle and bustle of the town center, retirees will find plenty of things to do, including taking a water taxi to neighboring towns to link up with nearby communities. For families, the area is built to provide a stimulating environment equipped with educational and recreational centers that make the bright future of the children their number one priority.