'Tis the Season and Some Amazing Florida Weather… Let's visit our favorite local gems!
Posted by Elena Stefanoski on Tuesday, December 1, 2020 at 1:55 PM
By Elena Stefanoski / December 1, 2020
Comment
We made it to the last month of the year. I am sure many can agree, 2020 has been a wild ride, but here we are in the best weather Florida can offer. It may not be beach day every day, but it can surely be enjoyed to the fullest.
ELENA STEFANOSKI, REALTOR, BAS, RENE, RSPS, SFR
Learn More About Elena
Degrees, Certifications & Designations
Bachelor of Arts & Sciences, Indiana State Sycamores
Real Estate Negotiation Expert
Resort and Second Home Property Specialist
Short Sale Foreclosure Specialist
Multi-Lingual - Inquire for Details
(941) 405-0221 - Email Me

We made it to the last month of the year. I am sure many can agree, 2020 has been a wild ride, but here we are in the best weather Florida can offer. It may not be beach day every day, but it can surely be enjoyed to the fullest. As I tend to work with many out of state clients, I always make sure to allow them to feel as they are right here with me when they ask me specific Florida questions. In this post, I would like to talk about my go-to outdoor places locally. One of the most common questions I get asked from my clients who are new to the area is: What is there to do outdoors besides the beach? Well, let me tell you about my favorite places to visit with my family. As a mother of three I always look for fun and interesting places to visit with my kids, so here we go:
Heron's Nest Nature Park
6399 Tupelo Trail
Bradenton, FL 34202
Heron's Nest Nature park is set on about 110 acres. Very easy access around the lake and super kid friendly. The nature trail is just under a mile and fairly easy for the whole family. There is Florida habitat along the way of the trail. Pets are welcome too. https://mylwr.com/959/Herons-Nest-Nature-Park
Emerson Point Preserve
5801 17th St. W.
Palmetto, FL 34221
I cannot say enough great things about this nature trail/park. It is probably my favorite, maybe not my kids' because there is plenty to walk. It is situated on the West end of Snead Island on the North shore of the Manatee River with Terra Ceia Bay to the North. It offers a network of hiking and kayak trails to experience a wide variety of coastal Florida wildlife habitat. Ancient and historic remains of it's inhabitants are also accessible and well interpreted to give a sense of what life in Manatee county was like prior to and during its settlement. Going through the trail there are several observation points to stop, relax, and enjoy the views. https://www.mymanatee.org/departments/parks___natural_resources/parks__preserves___beaches/emerson_point_preserve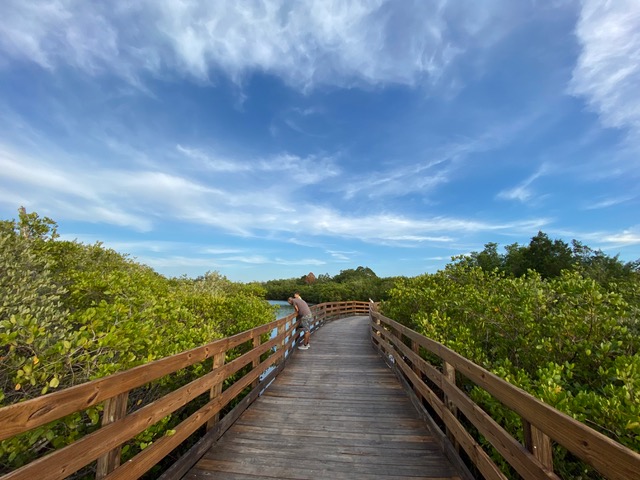 Strolling through the mangroves at Emerson Point
"Elena was a pleasure to work with. We purchased our first new home and she offered excellent advise and was always available to answer every question. She is very knowledgeable and made the experience very easy. We couldn't be more satisfied!! Thank you!" - Amanda Mejia
DeSoto National Memorial Park
8300 Desoto Memorial Hwy.
Bradenton, FL 34209
This nature preserve is great, not just for hiking, but for learning history as well. Super kid friendly, right on the water walking through the mangroves gives kids special excitement. https://www.nps.gov/deso/index.htm
Nathan Benderson Park/Lake
5851 Nathan Benderson Cir.
Sarasota, FL 34235
This park is located in Sarasota, and it stretches about 600 acres. The Lake includes North America's premier 2000 meter sprint rowing course and a regatta center. The lake loop is around 3.4miles and it makes a great family outing. It also has a playground for kids, which is gated. There are often public events held at Benderson Park as well. https://nathanbendersonpark.org
Ringling Museum
5401 Bay Shore Rd.
Sarasota, FL 34243
If you are looking to step inside something magical, you should visit the Ringling Museum. It was established in 1927 as the legacy of Mable Burton Ringling and John Ringling for the people of Florida. You can visit the Museum of Art, the Circuit Museum, Ca' d'Zan and the Bayfront gardens. The Museum of Art and Bayfront Gardens are free to the public on Mondays. They also have a playground for children which will make this trip great for the whole family. The Rose garden is beautiful as well as the views from Ca' d'Zan, but don't take my word for it, make the time to visit it for yourself. https://www.ringling.org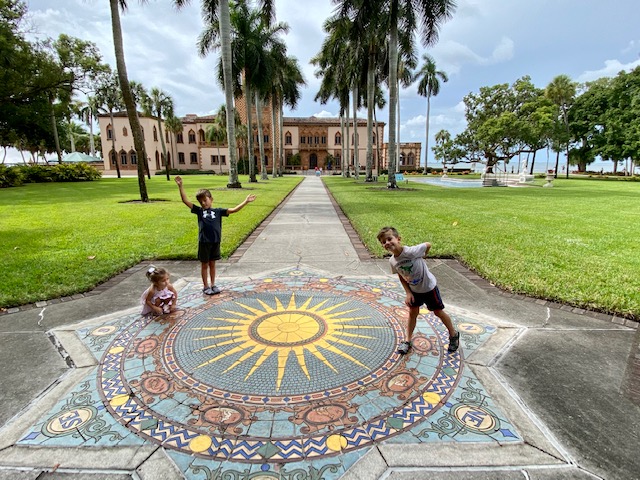 My kids posing in front of Ca' d'Zan at the Ringling Grounds
Marina Jack
2 Marina Plaza
Sarasota, FL 34236
Pretty self explanatory, Marina! Yes this is the Marina located on the Bayfront near Downtown Sarasota. My family and I love visiting Marina Jack because it provides everything we can look for in an outing. We take a stroll along the Marina, kids almost always play at the playground and of course they end up climbing the trees. There is also a splash pad, hopefully to re-open soon for the hot summer days. If you do end up visiting Marina Jack, make sure you stop by at O'Leary's. Super laid back caffe, several options for food and of course a full bar for those who would like to enjoy the spirits. We like to sit by the water and let our kids play in the send while we sip on something spectacular and enjoy the gorgeous water views. https://www.marinajacks.com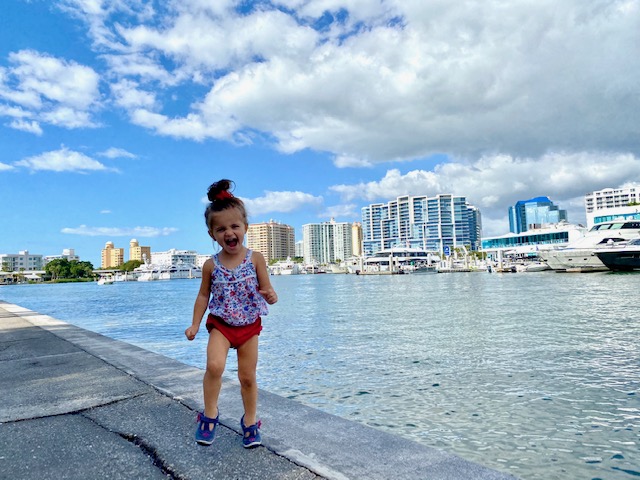 My 2-year-old daughter overly excited to be at Marina Jack