State Road 64 'Diamond Configuration' Making Progress near River Strand
Posted by Robert Casella on Wednesday, August 1, 2018 at 12:26 PM
By Robert Casella / August 1, 2018
Comment
I admit it. I was a bit skeptical when the "experimental" Diamond configuration at I-75 and University Parkway commenced construction. I actually live near the Ringling Museum District and since I regularly sell in Lakewood Ranch, University Parkway was the main artery that led me to I-75. So, for about a year, I witnessed the transformation of this interchange over time. Clearly, a change was needed but the question was whether this design would ameliorate the flow of traffic and make travel manageable. The UTC Mall, which has been a resounding success, tipped the scales of traffic density in favor of this new diamond interchange configuration.
At times during the construction phase, it seemed as though the path to I-75 was different on a weekly basis. I would twist and turn my vehicle in one direction only to change my trajectory after then next construction phase was completed. Day and night, rain or shine, it seemed as though changes were constantly happening. Since a good chunk of this project was being done over the summer, it was a race against time because the next round of snowbirds would soon cause the area to swell as they made their annual winter pilgrimage to Lakewood Ranch. In the end, the project was completed and I can happily report that the current infrastructure is a vast improvement. Time will tell as more residents flock to the area, but the new design has done a serviceable job absorbing the influx of folks that come during the winter.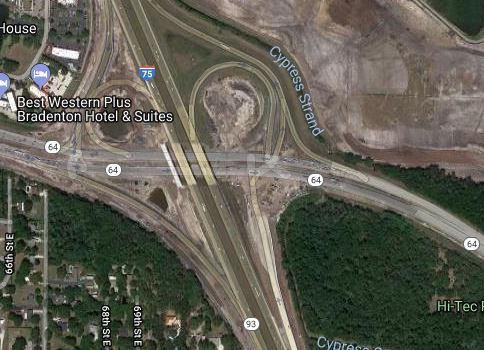 Fast forward to August 1, 2018. The State Road 64 diamond interchange near River Strand, which was prompted by increased traffic density caused by new residential development and the new Fort Hamer Bridge, has been underway for several months. Yes, rain has hampered progress some (which is expected in the summer), but work continues day and night. The interchange, which is happening contemporaneously with commercial real estate development in Heritage Harbour (where River Strand is located), will tremendously ease traffic in this rapidly growing area. At times, the construction can be somewhat cumbersome to navigate, but I now know that the wait will be worth it.