Lakewood National Real Estate: Verandas Map
Posted by Robert Casella on Thursday, October 6, 2016 at 2:18 PM
By Robert Casella / October 6, 2016
Comment
Introducing the first phase of the verandas for sale at Lakewood National...what is a veranda anyway?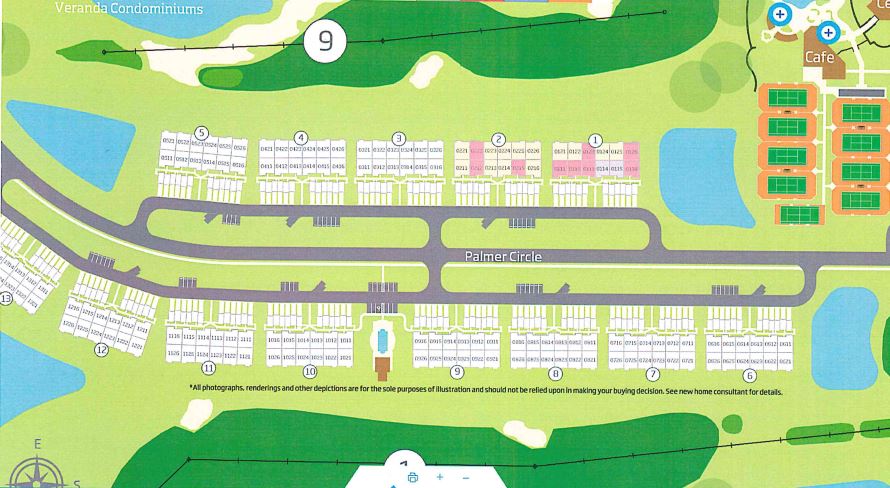 A veranda in Lennar parlance is simply a condo with a 1 car garage and has two lanais (one in the back and one in the rear). Now, this does not seem overly difficult to remember, right? Actually, it can be when you consider there are three different condo offerings at Lakewood National!
Lakewood National also offers terraces and coach homes too. The terraces for sale at Lakewood National are very similar to the verandas, except some of the floorplans do not offer a den and they come with a covered carport, not a one car garage. Differently, the coach homes for sale at Lakewood Ranch National have 2 or 2 1/2 car garages, and are bigger than the verandas. So, in a sense--the veranda is the "middle child"--and I don't mind talking about the benefits of being a middle child, because I am one too! But I digress. Let's dive into the verandas.
There will be three different verandas for sale in Lakewood Ranch National: The Arabella, Bromelia, and the Diangelo. Each will come with a seperate den, in additon to 2 full bedrooms. That added versatility comes in handy as an office space or another bedroom for when that extra couple unexpectedly comes to visit!
For the most part, the rear lanais will be east or west facing and have broad viewing angles of the first and ninth hole of the Lakewood National golf course. That being said, there will be some blended exposures too. The location of the verandas for sale in Lakewood National will also be fabulous--who wouldn't want to walk to the clubhouse instead of drive? This first phase gives you that opportunity. I am really excited to see how the verandas take shape in the first phase. We have already sold some of them in the pre-construction phase--can't wait to see them in person.
I am incredibly excited to work with buyers seeking homes for sale in Lakewood National. Depending on what they are looking for in a community, River Strand might also be a great fit too. In other words, buyers will have some great options. As always, it will come down to value--and noone knows Lennar or bundled golf course communities quite like we do! For more questions, call Robert Casella today--let me navigate you through this process! 941.961.4037.