Is the Sarasota Quay Here to Stay?
Posted by Robert Casella on Tuesday, July 31, 2018 at 8:08 AM
By Robert Casella / July 31, 2018
Comment
For those of us that were around when the original Sarasota Quay was slated to commence construction, this day has been a long time coming. A victim of the Recession, the original Sarasota Quay was a casualty of turbulent financial times. As a homeowner that lives in the Ringling Museum District and West of Trail, I was eagerly anticipating the arrival of the Quay and what it might do to further invigorate the area.
When the original Quay project was announced, they had prepped the area by leveling existing structures that had restaurants and shops. So, what had already existed as a commercial enterprise vanished, and the dream of a new Quay never materialized. Fast forward to 2018, and Sarasota is buzzing again with a new vision of the Quay by GreenPointe Communities LLC. In late May, GreenPointe Communities LLC unveiled a groundbreaking ceremony at the 15 acre Quay Sarasota Waterfront with local high school students, Planning Board members, and the mayor. An artist rendering is depicted below: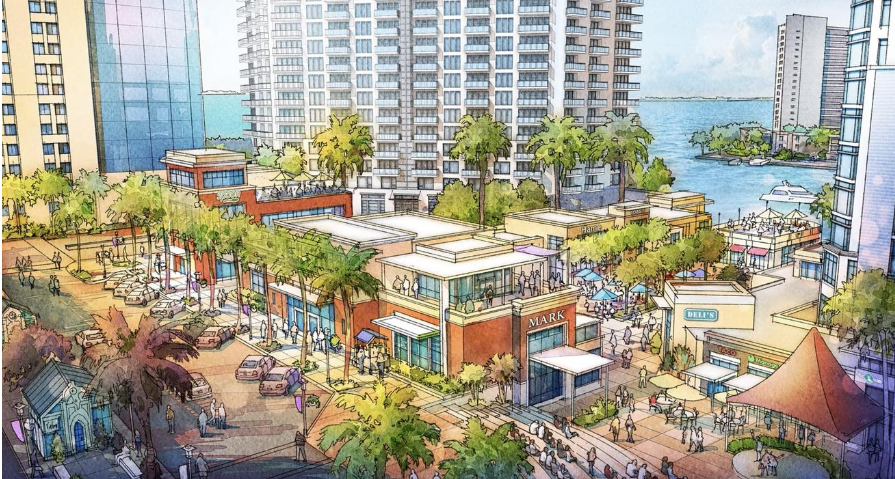 In conjunction with the development of the Quay, the re-purposing and renovation of the historic 1925 Belle Haven Apartment building on the site is a significant piece of the project, which will also include 695 residential units, 175 hotel rooms, almost 38,000 square feet of office space, and 189,000 square feet of commercial space. In total, it is estimated the project will cost close to $1 Billion.
Ordinarily, most of my discussions regarding "new" have revolved around the bustling activities in Lakewood Ranch. The new mall at University Town Center stole the show for a couple of years and Lakewood Ranch was a big reason for its arrival. Meanwhile, Sarasota continues to refine and improve what is offered in the area, and the Quay is a substantial indication that there is more to come. I oftentimes refer to Lakewood Ranch and Sarasota as the opposite sides of the same quarter--they both offer something different, and each tells a different story. The good news is that both are right around the corner from one another, and it has been exciting!
Want more information? Click Sarasota Quay to stay informed.
Robert & Kristin Casella - Your Local Lakewood Ranch Realtor Experts
941.500.2177