Good Eats Near Lakewood National:Part III of Series
Posted by Robert Casella on Sunday, November 12, 2017 at 7:38 PM
By Robert Casella / November 12, 2017
Comment
Good Eats for Lakewood National! Part 3: Tampa
Throughout this series, I have broken down some of the best places to eat right outside our door. The unique location of homes and condos for sale in Lakewood National is the prime position that allows us branch out to neighboring cities with little to no trouble. The largest and most well-known of these cities is Tampa.
Tampa is a well renowned for several reasons, including their world class amusement parks and sports teams. This kind of notoriety has given Tampa the opportunity to bring in many of the best restaurants from around the world. The restaurants I'm going to share my experiences on are AJ's Press, Ulele, and Columbia Restaurant. All three of these local eats are special in their own way and provide a wide variety of culinary flavors and styles.
The first restaurant we are going to dive into, happens to be a personal favorite of mine. This is AJ's Press. AJ's Press is a local family-owned restaurant specializing in fresh ingredients and slow roasted meats. The restaurant is located in what appears to be a small colorful house. This laid back, genuine environment makes this restaurant feel like a home. Not only does AJ's use fresh ingredients such as their fresh baked Bolillo and Telera breads, they also make their name with their brilliant flavor combinations. My "go-to" sandwich has to be the Crunchy Chicken. This sandwich has AJ's own signature crunchy chicken with a sweet and tangy Chili sauce, Jack cheese, tomato, and arugula. To go along with this, I always get my favorite side dish, the jalapeno bacon hush puppies. For those of you trying to cut back on the bread, AJ's has something for you too. AJ's bowls take all the great stuff from their sandwiches and adds them to a bowl with house made black beans, arugula, and tortilla strips. This homecooked restaurant has bright, powerful flavors that will keep you coming back time and time again.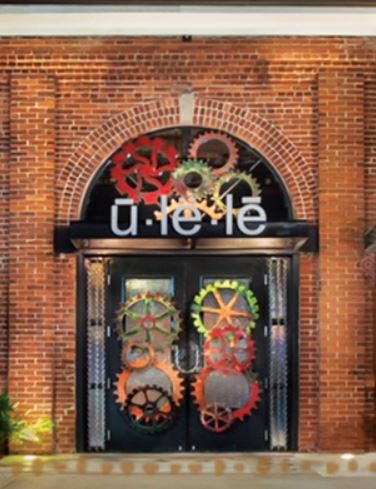 My second stop in Tampa was the Ulele. Ulele focuses on using fresh Florida ingredients to create dishes inspired by the local Native Americans. The restaurant honors the tale of Princess Ulele, who was famous for saving the life of a captured Spanish soldier by diving between him and the fires that had originally been his fate. Ulele celebrates this story by bringing us food straight from Florida's Gulf Coast. Not only do they bring us fresh ingredients from just outside our door, they present them to us with amazing flavor profiles that either expand our palate or show us new twists on classics we already love. Whether it be the Yellowfin Tuna with a pumpkin seed crust and a ginger, soy, grapefruit reduction, or the Scallops, Shrimp 'N' Grits with a jalapeno cheddar grit cake, Ulele can satisfy your hunger.
Not only is the food here amazing, Ulele also boasts one of the best dining environments I have experienced. Ulele's dining area has high ceiling and warm natural wood finishes that create a comfortable ambiance. Apart from this dining area, there is also a rooftop area to enjoy your night under the stars. The appeal of Ulele doesn't end there. It also has its own brewery with several homemade beers on tap. Ulele is the kind of place that can satisfy everyone in the group in the best way possible.
The last stop on my tour of Tampa was a no brainer: Columbia Restaurant. You may have heard of these restaurants before and already understand how delicious they are. What you may not know is that the Columbia Restaurant in Tampa is not only the first Columbia Restaurant; it's the oldest restaurant in Florida. Opened in 1905 by Cuban immigrant Casimiro Hernandez, Sr., Columbia Restaurant has been a staple in Tampa for over 100 years! This inspired Latin cuisine is nothing short of divine. Their extensive menu includes a plethora of dishes. My favorites would have to be the Paella "Marinera" which is their classic paella filled with various fresh seafoods, or the Pollo "Riojana" which is a breaded boneless chicken breast topped with Rioja tomato sauce and Tetilla cheese. The chefs of Columbia Restaurant are masters at bringing us authentic Latin flavors here in Florida.
We have almost any cuisine we could want, right outside our door. With such great selections near or surrounding Lakewood National, each night is a chance to try something new that might become your new favorite. I've been living in the area for 17 years and I'm still trying new things every day. So come on over and take a look at some of our condos and homes for sale in Lakewood National.